Telling your story is important for your fashion business. Once I was at a trade show one day shopping for product to sell in my shoe and accessory store. Passing by a booth I saw belts that looked interesting. The salesperson gave me the information about the belts and I was ready to leave. Then the owner of the company came over and told me the story of the company and the belts. Since the story was so compelling that I sat right down and wrote an order.
Stories have the power to inform and educate, entice and engage a customer. Stories can capture the imagination and influence decisions. When you are marketing and selling, telling your story will create an emotional connection. This is how you begin to create a brand.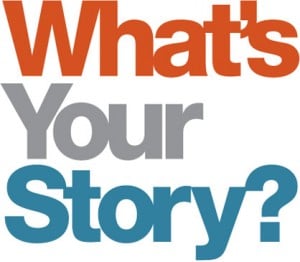 What are the elements of a good brand story for a fashion business?
First start with the reason your company came to be. What was the vision behind your product, the inspiration that was the catalyst in creating your business? I love the story about Spanx. Sara Blakely founder of Spanx was going to a party one day and had white pants she wanted to wear. She wanted to make sure she had no lines or bulges. At the time there were no undergarments that did the trick. So she bought control top pantyhose and cut the feet off. After wearing it all night she realized this was something women needed and her company was born.
The next chapter should explain your USP (unique selling proposition). What makes your product fabulous and unique and why a customer should by it? Remember to discuss benefits as opposed to features because this is what your audience will relate too.
The story needs to have a hero. Just as Sara Blakely was the hero of the Spanx story who is the hero of yours. Is it you? Then tell the story of you and how you came to the business.
Telling your story with passion, honesty and excitement will make your story powerful. Since sharing your business story builds a sense of trust and familiarity and people are more likely to buy from those they relate to, understand, and most all, they trust.